According to the EEOC:
"As part of the Equal Employment Opportunity Commission's (EEOC) year-long 50th anniversary celebration, the agency has released
American Experiences versus American Expectations
,
a report that illustrates the significant changes to the demographics of the American workforce since EEOC opened its doors in 1965. The report, which also highlights continuing challenges in our workforce demographics, uses EEO-1 data to track employment participation from 1966 to 2013 for several demographic groups, including Asian-Americans.
Beginning in 1966, all employers with 100 or more employees (lower thresholds apply to federal contractors) have been required by law to file an Employer Information Report EEO-1 with EEOC. In fiscal year 2013, the most recent year for which data is available, approximately 70,000 employers filed reports indicating the composition of their workforce by sex, race/ethnicity, and major job categories. (For more information about the EEO-1 and job categories, please see
http://www.eeoc.gov/employers/eeo1survey/index.cfm
.)

American Experiences versus American Expectations reveals several noteworthy trends concerning Asian-American experiences in the workforce: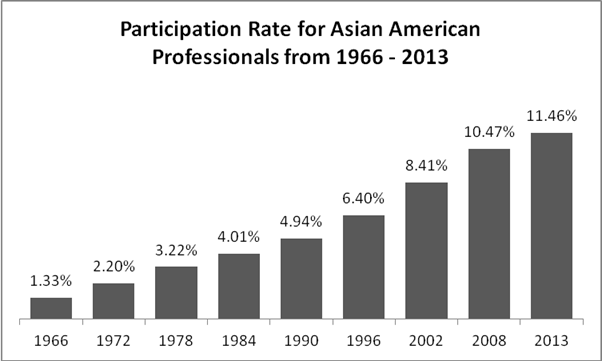 Asian-Americans saw consistent increases in participation rates from 1966 through 2013 in all nine job categories.
In 1966, Asian-American Officials and Managers composed less than 1 percent of all Officials and Managers. By 2013, Asian-Americans' participation rate in this category had increased to 5.53 percent, including a gain of more than 2 percent since 2002.
Asian-Americans in the Professionals category showed the greatest increase, from 1.33 percent in 1966 to 11.46 percent in 2013, an increase of 10.13 percentage points. Asian-Americans experienced the greatest increase in participation rate in this job category of any demographic group reported.
By comparison, between 1966 and 2013, Asian-American participation rates in the workforce increased from 0.5 percent to 5.5 percent (
2013 EEO-1 Indicators report
). In 2013, the United States' 20.8 million Asian-Americans (including Native Hawaiians and Pacific Islanders) made up roughly 7 percent of the population. They represented 30 countries and spoke more than 100 different languages.

EEOC's Efforts to Address Race and National Origin Discrimination in Employment

EEOC is responsible for enforcing, among other laws, Title VII of the Civil Rights Act of 1964, which prohibits discrimination based on race and national origin in any aspect of employment. In FY 2014, race and national origin discrimination comprised 45 percent of the charges filed with EEOC under all the statutes the agency enforces. Of these race or national origin charges, Asian-Americans filed 1,213. The issues most frequently alleged in these charges were discharge, harassment, and terms and conditions of employment.

EEOC is proud to be an active participant in the White House Initiative on Asian-Americans and Pacific Islanders (AAPI). The Initiative works to improve the quality of life and opportunities for Asian Americans and Pacific Islanders by facilitating increased access to and participation in federal programs where they remain underserved.

Through its 53 offices nationwide, EEOC works to stop and remedy racial and national origin barriers to equal employment opportunity such as hiring discrimination and harassment. During FY 2014, EEOC staff resolved 40,197 charges of employment discrimination based on race and national origin and recovered over $106 million for individuals along with substantial changes to employer policies to remedy violations and prevent future discrimination-without litigation. When litigation has been necessary, EEOC has filed 20 lawsuits since 2003 alleging discrimination involving Asian-American communities. The alleged discrimination included trafficking, harassment, and derogatory comments.

Among noteworthy EEOC resolutions on behalf of Asian-Americans:
In 2014, EEOC settled for $2.4 million with four Hawaiian farms for discrimination against 500 Thai farmworkers. EEOC alleged that the employer denied or delayed workers' pay, monitored their movements, monitored and confiscated their passports, imposed quotas on them that did not apply to non-Thai workers, denied them adequate food and water, and forced them into unsanitary, overcrowded living conditions.
In 2012, EEOC settled a lawsuit on behalf of approximately 70 Filipino-American hospital EEOC alleged that the workers endured ongoing harassment from top levels of hospital management because of the workers' national origin.

In FY 2014, EEOC reached more than 11,700 Asian-Americans through 240 events across the county tailored toward their communities, including Chinese, Burmese, Vietnamese, Cambodian, Micronesian, Korean, and Hmong. Additionally, EEOC provides outreach and education materials in multiple languages and has bilingual staff and interpreter services available to assist throughout our process.
For more information about race and national origin discrimination, please visit our website:
www.eeoc.gov
."